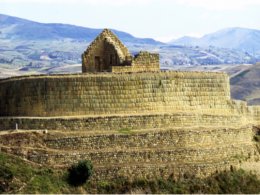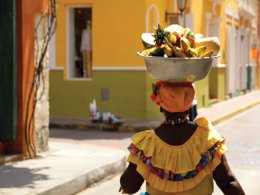 Ecuador & Colombia Highlights

26 Days Quito-Cartagena
Departs: 25May'22

33 Days Guayaquil -Cartagena
Departs: 18May '22


The largest mega-diversity on the planet makes it home in Ecuador, the center of the world. With a privileged climate and the most breathtaking landscapes, the essence of Latin America merge to create a unique and unforgettable destination. The Andes in Ecuador has an area of approximately 600 km in length; it has elevations ranging from the 1500m in the subtropical valleys to elevations that exceed the 5000m at the summits of the highest volcano.

There is the option to visit Galapagos prior to the start of the tour.
From Guayaquil on the coast to Cuenca in the highlands Cuenca fuses culture, nature and tradition.

For an unforgettable journey in the Andes, travel along Ecuador's Avenue of the Volcanoes, ride the Devils Nose Railway, explore around Banos and Mt Cotopaxi. Then to its capital Quito. We then travel through the land of the Otavalenos. The indigenous Otavaleños are famous for weaving textiles, usually made of wool which are sold at the famous Saturday market. Stay in beautiful country haciendas.The colourful diversity of Ecuador is simply "stunning"

Colombia -"South America's best kept secret", has undergone many changes in the last 10 years and is now the continent's 3rd biggest economy. A tropical country of incredible diversity and charm. Its ever-changing geography, a history loaded with mystery and adventure, its people and cultures, have fascinated the world for centuries.Friendly people , diverse landscapes, great music make this an ideal place to travel through.
Our journey takes us through the colonial white city of Popayan, the coffee region of Armenia to fashionable Medellin. Then to its capital Bogota, one of the worlds leading cycling cities . Through the breathtaking Boyaca & Santander regions with lovely colonial towns, big canyons(Chichamocha 2nd largest in world) and great hiking trails. Then down to the Caribbean Coast and visit the old trading ports of Santa Marta and lovely Cartagena de Indias, rated one of the top cities in the world to visit.
Inclusions:
ALL transport (boats, buses, taxis, trains etc) ALL accommodation 3 star hotels/lodges
(twin/double share)
ALL entrance fees as per itinerary

ALL national park entrance fees
ALL sightseeing as per itinerary ALL transfers as per itinerary
Services of experienced local guides Breakfasts daily, 6 dinners
Services of experienced Tour Leader

Does not include:
Tips (allow US$225 ), Insurance, Laundry, Personal Spending, Medical Expenses,Meals not specified above,optional excursions
Testimonials
"So many unexpected things and wonderful food. Great guides" . Norman -Palmerston
" Both driver/guides were excellent , careful drivers and very knowledgeable and added in lots of extra along the way . Enjoyed staying in the Haciendas"
David & Dianne Taupo